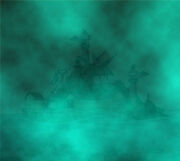 Hexperiment
Edit
Description: After scientific research and lab experimentation, the Roperian Naval Institute discovered the various fish could be transformed into military weapons. Wranglers will need to defeat the dangerous breeds residing within the "Hexperiment" facility.
(To see what the island looks like behind the shadows, click here!)
Getting to Hexperiment
Edit
To reach Hexperiment, catch a level 20 Scout Shrimp Fish in the island of Perilimeter
What to Buy
Edit
The same items that exist in Perilimeter exist in Hexperiment as well. You add onto your Folsom pole even more and level it up farther.
What to Catch
Edit
Hexperiment is very similar to Misty Cliffs so similar fish populations can be found here as well:
A rogues gallery of each Hexperiment fish can be found in The Fish of Hexperiment.

Moving On
Edit
To unlock Subaqueous, the third and final island in Mount Promontory, you need to catch a Level 50 Nuclear Arms Squid Fish.